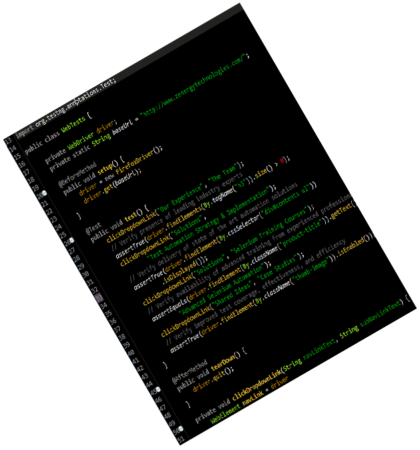 Java Basics Workshop
Join Zenergy for its upcoming java basics workshop on:
2021 Workshop Dates: December 1-3
This will be a virtual workshop
Target Audience:
Test Engineers (Some programming/scripting knowledge preferred)
Contact us to start the registration process or to ask questions. Or call us at 877.375.7041
Services Testing Workshop
Details
Join Zenergy for its upcoming services testing and automation workshop:
2019 Workshop Dates:
August 5-6
at The Nussbaum Center for Entrepreneurship
1451 South Elm Eugene St., Greensboro, NC 27406
Target Audience:
QA Testers (Basic knowledge of testing; theory and practice)
Services Testing and Automation Workshop:
2 Days
Course Objectives
The primary objective of the class is to educate attendees on how to write and execute basic Java programs.
Takeaways
Overview of object-oriented principles
Fundamental knowledge of programming constructs
Understanding of core Java features
Course Outline
Day 1
Introduction to object oriented programming principles and concepts
Overview of IDE tools and setting up environment
Java constructs – classes and methods
Primitive data types – expressions and assignments
String object methods
Day 2
Constructors and Main method
Logical expressions and conditional statements
Modifiers, passing arguments to methods and returning values
Looping
Debugging, stack trace and error handling
Day 3
Data arrays and collections
Processing strings
Introduction to file reader and data providers
Modular programming
Zenergy's staff experts in Agile, DevOps, and quality are in high demand as industry consultants, practitioners, and speakers at the largest software conferences in the world.
From mobile test automation using leading tools to manual testing on mobile devices, Zenergy has the experience to ensure mobile sites and apps perform as expected.
Test automation works best when implemented with a solid strategy. Zenergy has the experience to ensure your automation scales and performs like you want.
TESTING FACILITY
Zenergy not only houses leading QA and testing experts, it also employs large teams of automation engineers and test specialists in its onshore facility.
PUBLIC AND ONSITE TRAINING
From basic and advanced Selenium Automation courses to Test Methodology, Agile, and more, Zenergy can meet your training needs.