Agile Maturity Continuum
Where is your organization on the agile maturity continuum? Are you "doing" agile instead of "being" agile? Or are you in the optimizing stage and wondering what your next move is? No matter where you are on the agile maturity continuum, Zenergy can help you progress to the next level.
Click on any of the Zenergy solutions within the image to the right to learn how we can help you get better productivity and return on investment from your agile efforts.
Jump Start
It starts in our Jump Start and Leadership Primer where we not only introduce agile methods, but also highlight the leader's role within the agile organization. We focus early and often on defining role interactions that illustrate the requisite shift towards healthy agile practices.
This initial training for your teams and organization is more than just raw knowledge acquisition. In our Jump Start program, your teams and leaders will understand the values and principles that are the foundation for an agile approach to product development. We will also help you identify emerging agile leaders and the right team members to fill the various new roles in an Agile context.
This will set the stage for our Leadership Primer to help your leaders reach the next level.
Leadership Primer
Our Leadership Primer is a comprehensive mentorship program to get your leaders started on the right foot with agile. We first target your senior leadership team and give them a half-day overview of agile development in practice and the role shift for them. We help them understand the important part they play in the effort.
Next, we'll work with your managers, project managers, PMO and other mid-tier roles to explore their agile shift. This is usually a one-day workshop that includes some roles and responsibilities exploration. Finally, we'll run the same one-day workshop for your team leads, ScrumMasters, and Product Owners. We cover leaders at all levels in your organization with an effective strategy to help shift leadership expectations.
Across all workshops, we delve deeply into employee engagement, coaching skills, managing complexity, and leading organizational change. We also offer sustained and dedicated coaching via our Leadership Excelerator support to assist your leaders in identifying their development areas and helping them to improve.
Agile Workshops (XP/Scrum/Kanban)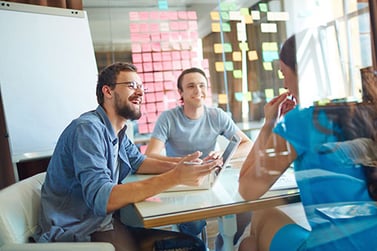 Our agile workshops are a critical starting point of our approach to accelerating your agile adoption. Our agile workshops are tailored to fit your needs, align within your context, and use the agile methods and practices that will work best for your organization.
Our workshops include:
Agile 101 – a general purpose half-day workshop that explores a variety of agile scrum methods.
Scrum Basics – a quick overview of Scrum. Quite often Kanban is applicable to DevOps and other operationally focused teams. The workshop includes board setup for the attending teams.
Kanban Basics – a quick overview of Kanban.

Quite often Kanban is applicable to DevOps and other operationally focused teams. The workshop includes board setup for the attending teams.

Scrum Mastery – this is a one-day focused workshop on advanced practices for the ScrumMaster (or similar) role within agile teams.
Product Ownership – this is a one or two-day workshop that explores all aspects of this critical role within your agile teams.
Agile Requirements & Planning – this workshop explores user stories, product backlog creation/maintenance and various estimation and planning techniques.
Agile Release Planning –

this hands-on practicum is focused on jump-starting your multi-team project planning. It's similar to SAFe's PI Planning events but in a one-day format.

Agile Testing –

based on the core strengths of Zenergy's testing practice, we have a wide variety of training materials focused toward solid Agile testing, TDD & ATDD, and Automation practices. We can customize these to your Agile testing transformation needs.
All workshops can be combined and customized for your specific needs and this occurs often for our Jump Starts.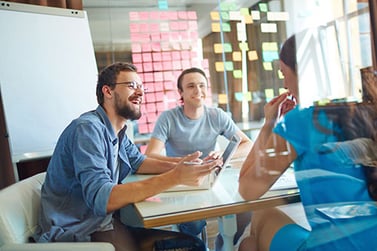 Certifications (Intro & Advanced)
At Zenergy, we are relatively agnostic when it comes to agile certifications. While we find value in them AND all of our coaches hold advanced certifications, we do not require this of our clients. We feel that certifications alone do not guarantee your success. You also need solid experience and mentoring.
That being said, we do partner with a variety of organizations if you want to complement your agile journey with certifications.
Scrum Alliance – CSM and CSPO via our coaching or via two-day classes with our partners

Scrum.org – PSM and PSPO

Scrum Alliance – CAL I (see below)

Scrum Alliance – Advanced CSM & CSPO

Scrum.org – Advanced PSM and PSPO

ICAgile – various certifications

Scaled Agile / SAFe – various certifications
As noted, much of our coaching time can be leveraged for Scrum Alliance ScrumMaster and Product Owner certifications. Depending on our coaching strategy, this can be a very cost-effective way for groups to achieve these basic certifications.
Certified Agile Leadership Class
As your leaders progress, we offer the Scrum Alliance – Certified Agile Leadership I class as a way of deepening and strengthening their ability to be effective in an agile context.
We often hear that it is a game-changer when it comes to jump-starting their understanding and ability to shift towards transformational leadership.
It's a two-day immersive workshop that covers these five key areas:
The Context for Agile

Agile Overview

Leadership in an Agile Context

The Agile Organization

Agile Approaches to Change
We HIGHLY recommend the CAL class for leadership teams in organizations to experience it as a team. It's a great way to establish consistent and aligned leadership goals, habits, and practices across your organization.
Enterprise Roll-Out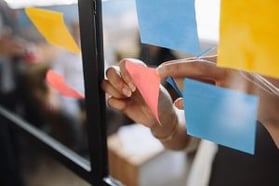 When you roll out agile across the enterprise, you want it to be successful as you shift your strategies, align toward your goals, and continue to execute. Our coaches via our Enterprise Strategy & Alignment and Enterprise Roll-Out, partner with your leadership team to adjust and reframe your strategies forward as you accelerate.
This is our strategic and tactical combinatorial service offering from Zenergy. We wrap up an incremental training plan with a multifaceted coaching plan to achieve an organization-wide agile transformation. Often this includes non-technology organizations in the mix, such as Product or Sales or your C-level Team.
We help you accelerate a balanced, multi-tiered agile transformation roll-out plan while ensuring it's pragmatic and feasible. We then walk side-by-side with you as agility unfolds successfully in your organization.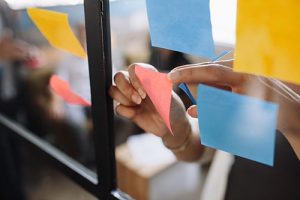 How can we help you reach your agile maturity needs?
AGILE MATURITY COACHING SOLUTIONS
What does your agile maturity level mean?
Readiness Review
Start (or restart) your agile implementation the right way by identifying the readiness of your organization to adopt or evolve an agile methodology. Zenergy's experts have implemented and transformed agile in numerous organizations large and small and know the gotchas and pitfalls. We will make sure your implementation dollars are ready to give you a positive return on investment. We take a 3-tiered approach to our readiness reviews, focusing on:
Leadership

team readiness. How familiar are your leaders with agile approaches? Is your organizational culture ready for agile? And what are the core drivers (the Why) behind your organization's interest in agility?
Management team readiness. This is the KEY to successful agile adoptions and transformation. We'll review your management teams' experience and operational dynamics relative to leading agile teams and provide a roadmap for adoption that will help them avoid common pitfalls.

Team readiness. Often the teams are the easiest part of the review, in that they are ready for improvement and change. We examine skills, organizational alignment, role selection, and infrastructure at this level.
Agile Accelerator
Implementing and becoming agile is often a longer-term endeavor, but that doesn't mean you can't hit key milestones faster by introducing proven methodologies that foster and increase adoption rates, provide real-time feedback loops that improve performance, and gain leadership support by conveying the right data to show agile's benefits.
Zenergy's Agile Accelerator and our seasoned coaches are adept at identifying the key steps necessary to up your agile game and be as prescriptive as necessary at the team, management, and leadership levels to get everyone moving in the same unified direction. So no fluff from us, just the stuff for significantly improved agile performance, accelerating as fast as possible within your business context.
Enterprise Strategy & Alignment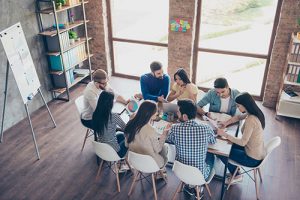 Need to roll-out agile across the enterprise? Itching to dive-in and just do it? Speak to our expert coaches first. While agile appears simple to understand, doing it well at scale needs a thoughtful strategy and approach geared for success. Zenergy's coaches have the insights and experience to analyze your organizational culture and context to develop the right implementation strategy and alignment approach that will foster organizational buy-in and support.
Our expert agile coaches partner with your leadership team to optimize your strategies and roll-out plans. Here are some of the ways in which we assist:
Our coaches have walked in your shoes and they understand development and IT organizational structures and strategy. They'll work with you to realign your current organization towards agile models such as Spotify, Feature/Component teams, and shifting from

Project

to

Product

aligned models.

We can help you plan for cross-cutting responsibilities such as UX, Enterprise Architecture, Hardware Integration, and regulatory responsibilities.
Agile transformations don't simply impact technology organizations. They also affect your Product structure. You need someone who understands Product Management. One of our coaches has written the book on Scrum Product Ownership, so we understand both sides of the organizational strategy challenge.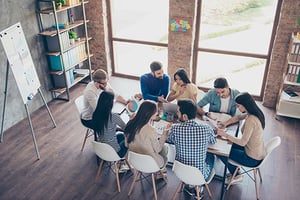 Leadership Excelerator
If you are experienced with agile in other organizations, you know leadership understanding, engagement, and support is vital. If support is not there, or if your leadership is only partially engaged, your agile implementations and efforts will never live up to their true potential and ROI. Think about Jeff Sutherland's promises of hyper agility and delivering 2x, 3x, 4x and more than your equivalent waterfall teams.
With Zenergy's Leadership Excelerator our expert coaches work in real-time with your leadership team to help them evolve your organization, improve their individual agile skills, and adapt to changing competitive pressures.
And our coaches aren't theoretical or inexperienced coaches who try to tell leaders what to do without any leadership experience of their own. Our coaches have held senior leadership roles and have walked in your shoes. They understand execution expectations in the real world and are adept at helping guide you towards an agile leadership mindset with all the potential it entails.
Agile Optimization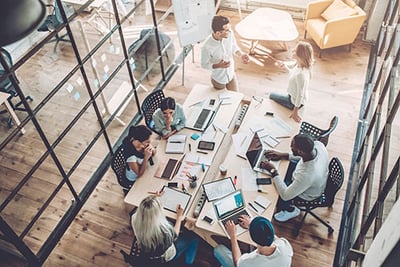 Yes, you may be agile but is it optimized? Are you not seeing the types of positive results on the investments you've made to bring agile into your organization? Is it giving you the best ROI it could, or do you know your organization needs to do better? Agile Optimization is not only about improving key, high-impact processes within your implementation, but also coaching the soft skills of the people in all areas of your organization from team members to management to leadership.
It's often incredibly hard to see your organizational challenges and weakness from the inside. You may know you're not performing well in your agile approaches, but it may not be clear how you get better. Or how to determine the root causes of the challenges that are standing between you and high-performance.
And it's not simply team performance that's a focus (nor should it be). Our approach to optimization is systemic and layered across the 3-tiers of your transformation:
The Context for agile

Agile Overview

Leadership in an Agile Context

The Agile Organization

Agile Approaches to Change
One of the biggest challenges is how managers shift from traditional management approaches to agile leadership, where new skills are needed to lead agile teams, coach and mentor with technical expertise. We know how to help managers excel and thrive within these new roles so they serve as change agents and catalysts themselves to help the organization optimize the benefits of its agile adoption.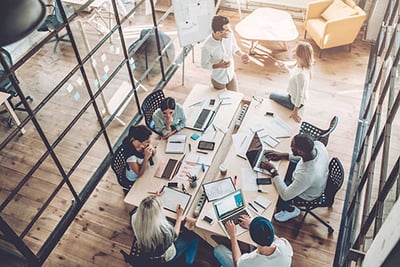 Agile Expansion
Agile @Scale is one of the great challenges in agile transformations. And @Scale doesn't necessarily mean 100's of teams. Often, 5-10 teams can be a real challenge to organize, align, and coordinate to deliver on larger scale product development or projects.
Leveraging our focus on Agile Accelerator, Agile Optimization, and Agile Expansion, we help you focus on effective strategic growth and expansion. Often organizations scale too quickly, trying to get the transformation over as soon as possible, which can lead to failure. We help you to achieve the right pace so that your scaling efforts are delivering the goods not only from the perspective of your technical teams, but also across your entire organization. Our primary goal is to help you achieve Organizational Agility and Business Agility.
Our team of agile experts/coaches has helped numerous organizations scale. We know the challenges and pitfalls of an organizational change rollout and can coach and train your leaders to approach change management in a better way. We show them how to act as systems thinkers and provide the right kind of vision and guidance for the rest of the organization to scale appropriately.